Many of our favourite events have been cancelled as we all stay home to flatten the curve…which has also made staying home quite dull.
101.5 The Wolf wants to bring some competitive fun back into your life!
WELCOME TO THE "BATTLE OF THE BEST" SERIES
PREVIOUS CHAMPIONS
(80's) MOVIE MADNESS – The Breakfast Club
GUITAR GODS – Rik Emmett
MASTERS OF THE MIC
The Wolf and Plan A Peterborough are putting sixty-four of the best vocalists to have ever graced the stage head-to-head to determine "The Greatest Rock Vocalist" and we need your help!
Each weekday, awe-inspiring singers will go head-to-head to see which will move on to the next round!
Polls will open at Noon ET and close the following weekday at Noon ET. We will be posting the results below so you can follow along!
 Who will be crowned the top rock vocalist?
Our champion is…
FREDDIE MERCURY
*TIP: If you'd like to make the bracket larger, zoom in using your web browser tool bar*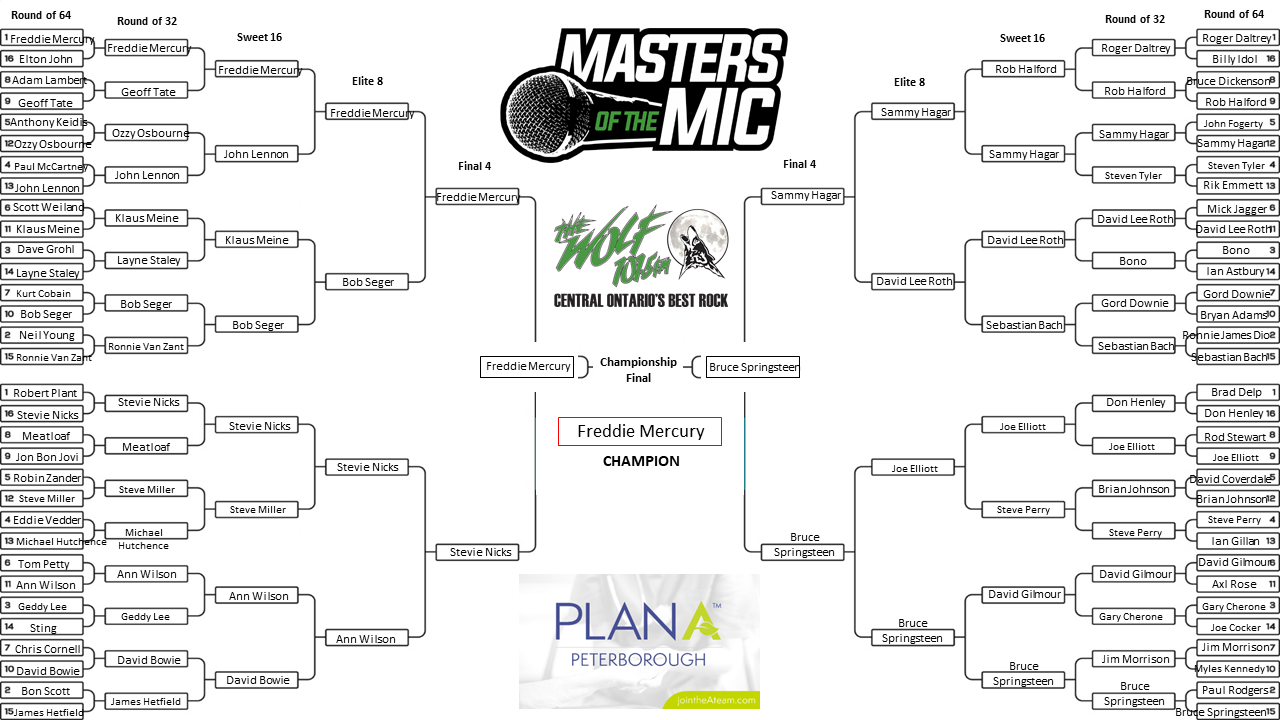 ---
---
Championship Final Results
Poll #12 – Tuesday, June 16th, 2020
Freddie Mercury (1) 76% vs. Bruce Springsteen (15) 24%
Final 4 Results
Poll #11 – Monday, June 15th, 2020
Freddie Mercury (1) 76% vs. Stevie Nicks (16) 24%
Sammy Hagar (12) 38% vs. Bruce Springsteen (15) 62%
Elite 8 Results
Poll #10 – Friday, June 12th, 2020
David Lee Roth (6) 23% vs. Sammy Hagar (12) 77%
Joe Elliott (9) 48% vs. Bruce Springsteen (15) 52%
Poll #9 – Thursday, June 11th, 2020
Freddie Mercury (1) 82% vs. Bob Seger (10) 18%
Ann Wilson (11) 45% vs. Stevie Nicks (16) 55%
Sweet 16 Results
Poll #8 – Wednesday, June 10th, 2020
Rob Halford (9) 35% vs. Sammy Hagar (12) 65%
David Lee Roth (6) 62% vs. Sebastian Bach (15) 38%
Steve Perry (4) 17% vs. Joe Elliott (9) 83%
David Gilmour (6) 35% vs. Bruce Springsteen (15) 65%
Poll #7 – Tuesday, June 9th, 2020
Freddie Mercury (1) 71% vs. John Lennon (13) 29%
Bob Seger (10) 66% vs. Klaus Meine (11) 34%
Steve Miller (12) 11% vs. Stevie Nicks (16) 89%
David Bowie (10) 24% vs. Ann Wilson (11) 76%
Round Of 32 Results
Poll #6 – Monday, June 8th, 2020
Roger Daltrey (1) 24% vs. Rob Halford (9) 76%
Steven Tyler (4) 33% vs. Sammy Hagar (12) 67%
Bono (3) 23% vs. David Lee Roth (11) 77%
Gord Downie (7) 32% vs. Sebastian Bach (15) 68%
Joe Elliott (9) 81% vs. Don Henley (16) 19%
Steve Perry (4) 80% vs. Brian Johnson (12) 20%
Gary Cherone (3) 10% vs. David Gilmour (6) 90%
Jim Morrison (7) 27% vs. Bruce Springsteen (15) 73%
Poll #5 – Friday, June 5th, 2020
Freddie Mercury (1) 74% vs. Geoff Tate (9) 26%
Ozzy Osbourne (12) 28% vs. John Lennon (13) 72%
Klaus Meine (11) 68% vs. Layne Staley (14) 32%
Bob Seger (10) 80% vs. Ronnie Van Zant (15) 20%
Meatloaf (8) 40% vs. Stevie Nicks (16) 60%
Steve Miller (12) 55% vs. Michael Hutchence (13) 45%
Geddy Lee (3) 48% vs. Ann Wilson (11) 52%
David Bowie (10) 55% vs. James Hetfield (15) 45%
Round Of 64 Results
Poll #4 – Thursday, June 4th, 2020
Brad Delp (1) 49% vs. Don Henley (16) 51%
Rod Stewart (8) 8% vs. Joe Elliott (9) 92%
David Coverdale (5) 44% vs. Brian Johnson (12) 56%
Steve Perry (4) 96% vs. Ian Gillan (13) 4%
David Gilmour (6) 63% vs. Axl Rose (11) 37%
Gary Cherone (3) 93% vs. Joe Cocker (14) 7%
Jim Morrison (7) 56% vs. Myles Kennedy (10) 44%
Paul Rodgers (2) 44% vs. Bruce Springsteen (15) 56%
Poll #3 – Wednesday, June 3rd, 2020
Roger Daltrey (1) 67% vs. Billy Idol (16) 33%
Bruce Dickinson (8) 21% vs. Rob Halford (9) 79%
John Fogerty (5) 20% vs. Sammy Hagar (12) 80%
Steven Tyler (4) 63% vs. Rik Emmett (13) 37%
Mick Jagger (6) 28% vs. David Lee Roth (11) 72%
Bono (3) 64% vs. Ian Astbury (14) 36%
Gord Downie (7) 61% vs. Bryan Adams (10) 39%
Ronnie James Dio (2) 39% vs. Sebastian Bach (15) 61%
Poll #2 – Tuesday, June 2nd, 2020
Robert Plant (1) 49% vs. Stevie Nicks (16) 51%
Meatloaf (8) 77% vs. Jon Bon Jovi (9) 23%
Robin Zander (5) 49% vs. Steve Miller (12) 51%
Eddie Vedder (4) 44% vs. Michael Hutchence (13) 56%
Tom Petty (6) 29% vs. Ann Wilson (11) 71%
Geddy Lee (3) 79% vs. Sting (14) 21%
Chris Cornell (7) 48% vs. David Bowie (10) 52%
Bon Scott (2) 43% vs. James Hetfield (15) 57%
Poll #1 – Monday, June 1st, 2020
Freddie Mercury (1) 52% vs. Elton John (16) 48%
Adam Lambert (8) 33% vs. Geoff Tate (9) 67%
Anthony Keidis (5) 32% vs. Ozzy Osbourne (12) 68%
Paul McCartney (4) 37% vs. John Lennon (13) 63%
Scott Weiland (6) 46% vs. Klaus Meine (11) 54%
Dave Grohl (3) 39% vs. Layne Staley (14) 61%
Kurt Cobain (7) 8% vs. Bob Seger (10) 92%
Neil Young (2) 22% vs. Ronnie Van Zant (15) 78%